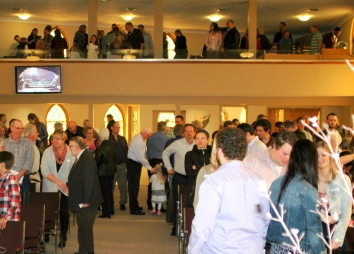 On Sundays we gather at 10 am to sing together, learn from the word of God, and encourage each other.
Most people enter through the large glass doors that face the parking lot.
In the foyer you will be welcomed by greeters who can help you find the elevator, nursery, worship space, obtain hearing assistance devices, and sign your children in for Sunday School.
We have a
nursery
and
children's programs
so that every child up to and including those in Grade 4 has something to do during the service.
For children under age 4 childcare is available during the worship service in the nursery in Calvary's lower level.
Children in grades SK to 3 are invited to go downstairs for
Sunday School
after the children's message.
Our services last about 60 mins, and the message component of the service is about 25 mins long. Fellowship time begins as soon as the service is over. Everyone is invited to remain in the sanctuary for a cup of coffee.
Calvary Church is accessible to those with disabilities.